What is "KINUGAWA PACK GREEN POINT"?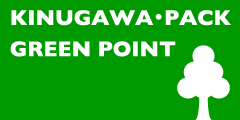 According to the volume of orders placed of the punch carpet, we save the point for each customer. When fixed quantity of a customer's points are saved, we will plant trees in the name of the customer through non-profit organization. The non-profit organization publishes an afforestation certificate to a customer.
The afforestation certificate proves that the customer participated in the afforestation project.